What's Inside
Flames of Dubai
Belgium's Touch
Golden Horn Adorned
Cubed in China
A Higher San Francisco
Manchester Slims
Features News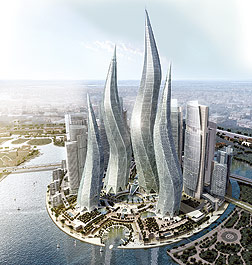 Flames of Dubai Dubai Towers, "represent[ing] the enlightenment of the region," are part of a project called The Lagoons and range from 54 stories to 97 stories. The towers imitate candle flames in the wind and sit upon part of seven man-made islands. Construction of The Lagoons began in April 2006, and the entire project, including the towers, is planned for completion in 2010. TVS International, the master planner for the entire project, has more than 50 designers working full time to complete the project and have employed the expertise of "two of the world's best structural engineers" whose names have yet to be divulged. Link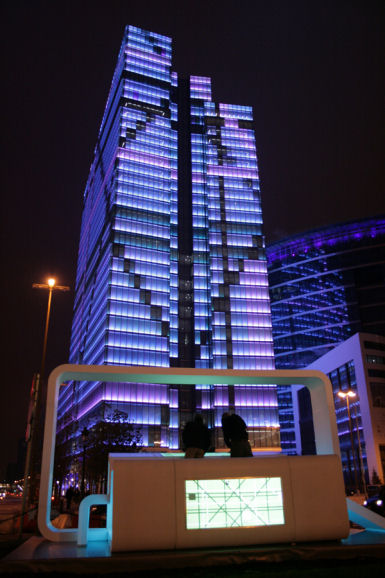 Belgium's Touch The Touch project by Belgium's Laboratory for Architecture and Urbanism was completed in January 2007. 4200 windows can be lit on the Dexia Tower in Brussels by RGB-Led bars which turn the tower into a 145 m (475 ft) art display. At the base of the tower, a station is mounted where people can interact with the visual display by creating their own composition. Once a composition is completed, a snapshot is taken of the tower and turned into a postcard that is uploaded to the web where the "designer" can retrieve it and even add Christmas or New Years wishes. Link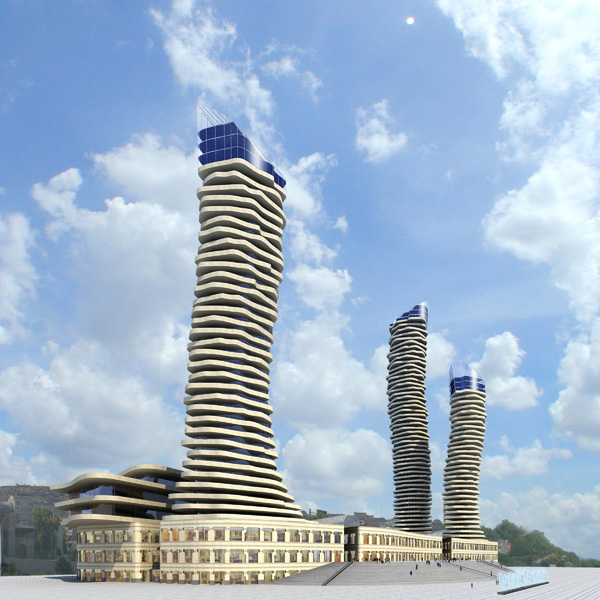 Golden Horn Adorned The current phase of the Oriental Lounge consists of three towers that sit upon a 58,000 square meter (624,306 sf) shopping complex whose look is similar to the traditional Turkish marketplace. The site is located on the historical Golden Horn, and estuary that divides Istanbul, where they will be the tallest in the area at 175 m (574 ft), 109 m (357 ft), and 102 m (334 ft). The towers resemble rock columns with irregularly stacked, semi-circular floor plates. The towers use a two tone scheme of sandstone and blue glass, a cross between Arabic and Indian form and are topped with a spire similar to the minarets of Istanbul. Link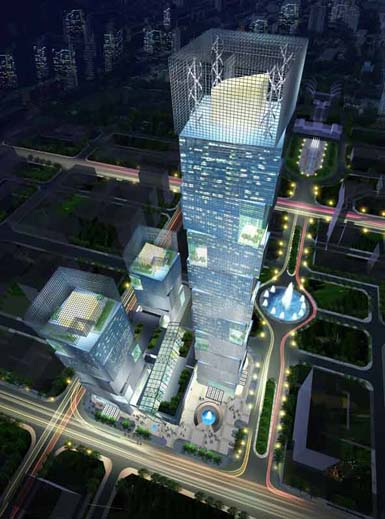 Cubed in China The International competition winner Atkins' TEDA Landmark Tower project for 3 mixed use towers in Tianjin, China consist of 8 story high cubes that rotate and spiral as the building rises. The towers will form a central landmark for the city and are topped with advanced wind-power turbines and include winter gardens that coil up the building. The tallest building reach heights of 356 m (1168 ft) and would be China's tallest when completed in 2009. Link
A Higher San Francisco Developers have proposed four connected towers to enhance the flat skyline of San Francisco, two of which would be 365 m (1200 ft) high making them the tallest buildings in the USA behind the Empire State Building and the Sears Tower. The other two towers are planned at 274 m (900 ft) which would still make them taller than any other building in the city. Italian architect Renzo Piano's plans must still go through over two years of reviews that will include determination of its behavior under earthquake forces since it would be built in the world's most seismically active region. Link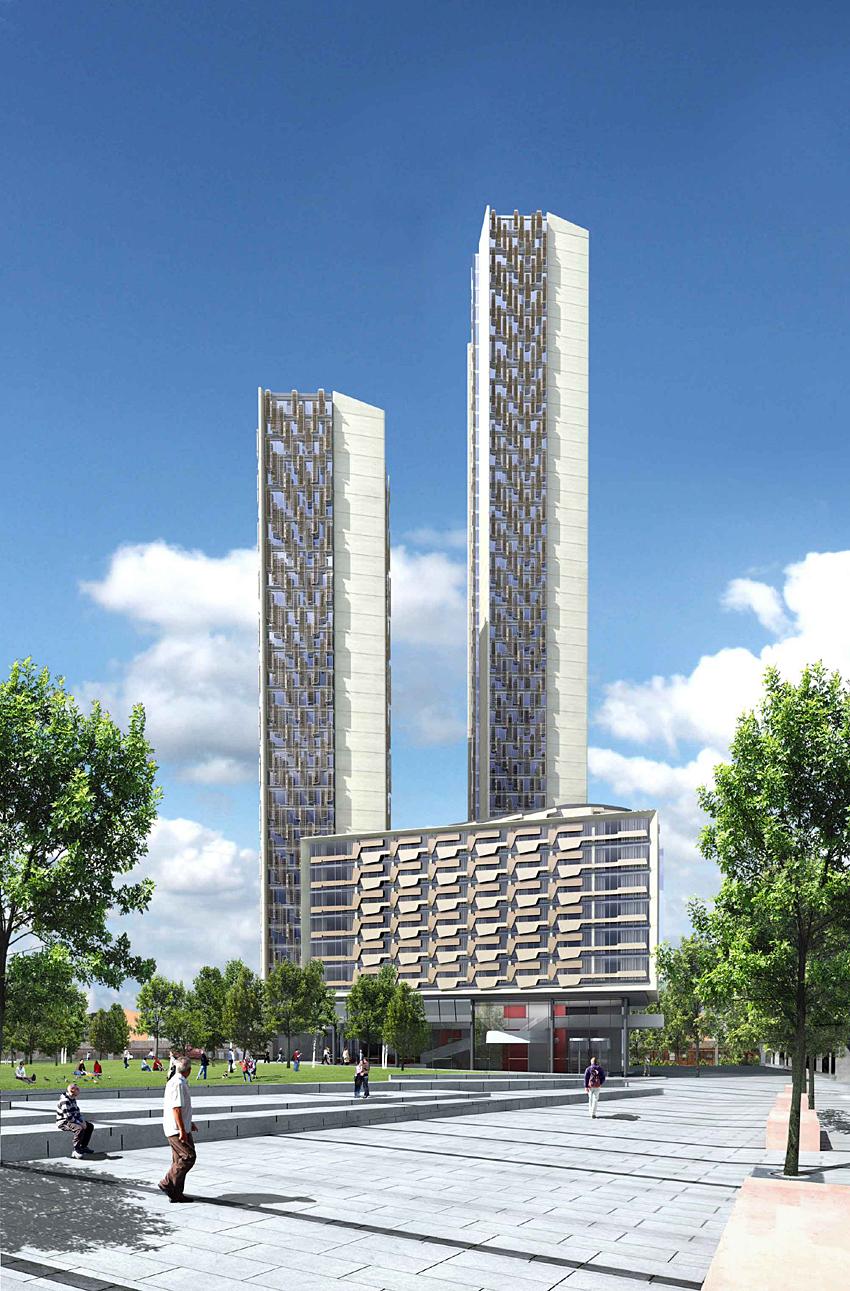 Manchester Slims Arca Architects have filed the latest plans for the twin tower scheme Canopus. The project contains 50,000 square meters (538,195 sf), including the two towers and a low-rise building. The towers reach 46 and 31 floors, with the tallest being 164 m (538 ft) high. The windows' solar shading form diagonals down the sides of the building and increase the slim look of the structure. Link
News Bites
Chicago, IL
The latest design for Chicago's lakefront tower, which would be the tallest in the nation, is revealed to the public after a poor public response to designs that were disclosed in December. Link
New York, NY
FXFOWLE reveals the design for a 40-storey, environmentally conscientious building in Times Square which will "define the western gateway" to Manhattan's new business district. Link
Boston, MA
The John Hancock Tower of Boston was sold to Broadway Real Estate Partners LLC of New York for between $1.3 to $1.4 billion dollars according to published reports. Link
London, UK
Lord Norman Foster considers new investment to grow practice Link
Liverpool, UK
A planned mixed use tower on the site of 3a Princess Dock has been scaled down from 112 m (367 ft) to 105 m (344 ft) due to concerns by the Commission of Architecture and Built Environment. Link
Leeds, UK
Work has begun surprisingly soon on the 26 story Opal Tower, second tallest in Leeds, and foundation construction is well underway. Link
Tianjin, China
The Tianjin Binhai Master Plan will take a 343 acre industrial plot and turn it into a hub for business and community living. The plan aims to bring together the adjacent districts via business, recreational, and residential uses. Link
Dubai, UAE
DAMAC's Ocean Heights project, winner of the Bentley 2006 "Best Architecture" award, is designed to maximize the views from its units by twisting the tower on three of its faces. Link
A high-rise under construction catches fire, killing two and injuring 57 workers, and generates memories of the 9/11 tragedy in the USA. Link
Atkins' 2CDE utilizes electro-glazing designed to withstand high summer temperatures and allow maximum light into the building to reduce electricity requirements. Link
The Burj Dubai has from surpassed Dubai's current tallest building and continues on its way to becoming the world's tallest building. Link
Kuala Lumpur, Malaysia
WATG unveils the Grand Hyatt hotel with the unique feature of placing the hotel lobby on the top floor where guests who are checking in will have a 360 degree view of downtown. Link
Thumbnails in this newsletter are the property of the entities whose articles we link. A special thank you to World Architecture News and Skyscraper.com for their ongoing support and photo usage permission.
CTBUH Tall Building News is a monthly round up of Tall Building news from around the world for CTBUH members. The editors, Natalie Brush and Antony Wood, welcome comments, ideas and contributions. Please reply to: info@ctbuh.org
Please note: The CTBUH does not in any way endorse the views or contents of the web pages. It is also not responsible for the content of external sites.
This email is intended solely for the use of the individual or entity to which it is addressed. If you have received this email in error please notify the sender.