WHAT'S INSIDE
Reaching New Heights
Jack Cowen
Back to the US
LEED Gold in India
Front Page Newspaper
FEATURE NEWS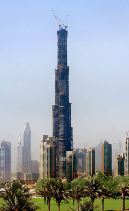 Reaching New Heights The CTBUH is pleased to congratulate the Burj Dubai on its construction height passing the 1671ft (509m) mark, which is the height of the current tallest building in the world, the Taipei 101. The Burj Dubai is on its way to setting a remarkable new record for the tallest building in the world, which will be approximately 50% taller than any building in the world today. The final height has not yet been declared by the developer. The tower is now leading the way to a new realm of high rise construction. Congratulations to the owner, architects, engineers and all those involved with the design and construction. Link1, Link2

Henry J. (Jack) Cowan (1919 - 2007) The Council was saddened to learn of the passing of Henry (Jack) Cowan on July 15th. Dr. Cowan was a distinguished academic and dedicated educator and was the world's first Professor of Architectural Science, University of Sydney. Dr. Cowan became a member of the Council in its early days, organizing several conferences and participating in several CTBUH topical committees, as well as the publications committee. He remained very active with the Council, acting as the CTBUH Vice Chairman for Australia/New Zealand and serving as the Council's country representative for Australia. Named as one of the first CTBUH Fellows, Dr. Cowan authored 27 books, served as editor of the Elsevier Architectural Science Series and had over 300 papers published in various journals.
Back to the US Zaya Younan of Younan Properties wants to build the world's next tallest building in either Chicago, Los Angeles, or Houston. To safely hold the record for any length of time, the chairman thinks the building should be 500 feet taller than any competitor. That means his building would reach the height of two Sears Towers with a price tag over $4 billion US dollars. Younan believes the US should have the world's tallest building and wants to "bring that crown back to the US" with a "city within a city" that houses residences, offices, in addition to a hospital, museum, or other like attractions. Link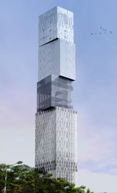 LEED Gold in India Construction has begun on the India Tower in South Mumbai, India and plans are underway to reach the US Green Building Council LEED Gold rating. The goal - to make it India's greenest building. Designed to have little impact on the environment, the building will implement current sustainable systems such as solar shading, natural ventilation, rainwater harvesting, etc. The mixed use tower changes uses (hotel, commercial, residential) with the rotation of the structure and hotel guests will check-in at the Sky Lobby on the top of hotel block while they enjoy the panoramic views. Link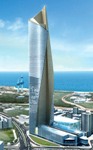 Front Page Newspaper SOM's "half rolled newspaper" construction is underway in Kuwait, standing as a shrouded figure reflecting the surrounding peninsula. Al Hamra Firdous will be one of the top 10 tallest buildings in the world when complete and with an impressive lighting scheme it will be a dominant feature dotting Kuwait's skyline. Completion is tentatively set for 2008 although a 2009 completion is more likely. Link
NEWS BITES
New York, NY
"Vertical Farm" idea by Columbia University professor is a step towards thinking outside the box and towards the future. Link
California, USA
Solar panels shed light on conflicts between going green and city design guidelines. Link
Canada & USA
Going green - LEED certification - gaining popularity as benefits and costs are compared. Link
London, UK
Vauxhall Tower receives planning permission against much opposition. Link
Liverpool, UK
Liverpool's planned tallest building to celebrate "ecclesiastical grandeur" of the city. Link
Dubai, UAE
Standing to prove that Dubai can be "beautiful without being super tall," this unique shaped tower will dot the Sheikh Zayad Road hotspot. Link
St. Petersburg, Russia
UNESCO asks City Hall to stop development for energy company Gazprom until further evaluations of heritage impact are made. Link
Dublin, Ireland
Bifrost development designed as a dramatic but graceful wave like a man-made mountain. Link
Japan
Supreme court rules that architects and engineers can be liable for flawed homes and homeowner compensation. Link
Shanghai, China
Future Shanghai International Finance Centre will house HSBC China in one of its towers. Link
Guangzhou, China
F2-2, a 141,000 sq meter development, begins with a conceptual study as its two owners cooperatively work together. Link
Seoul, South Korea
First renderings of SOM's Lotte Super Tower are released depicting a diagrid system as seen in Hancock Tower in Chicago. Link
In Other News
Times' picks the World's 10 Most Ambitious Projects. Link
Founder of "Architects & Engineers for 9/11 Truth" announces support from former member of California Seismic Safety Commission and Nat. Institute of Sciences Building Safety Council. Link
Thumbnails in this newsletter are the property of the entities whose articles we link. A special thank you to World Architecture News and Skyscraper News for their ongoing support and photo usage permission.
CTBUH Tall Building News is a monthly round up of Tall Building news from around the world for CTBUH members. The editors, Natalie Brush and Antony Wood, welcome comments, ideas and contributions. Please reply to: info@ctbuh.org
Please note: The CTBUH does not in any way endorse the views or contents of the web pages. It is also not responsible for the content of external sites.
This email is intended solely for the use of the individual or entity to which it is addressed. If you have received this email in error please notify the sender.