CTBUH 8th World Congress - "Tall & Green: Typology for a Sustainable Urban Future"

(Dubai, March 3-5, 2008)

Plans for the Congress are developing well, with good initial responses from the keynotes and invited speakers. The conference website to enable on-line registrations, and the conference brochure, will be posted by June. The 'call for papers' is ongoing. For more on this, and downloadable author guidelines and a template for papers, see www.ctbuh.org . Salient dates for the Congress are summarized below:

Call for Papers

15 Apr 07

Deadline for Submission of Initial Papers

30 Sept 07

Comments back from International peer-review board

30 Oct 07

Deadline for Submission of Final Papers for publication in Proceedings

31 Dec 07

Congress

3-5 Mar 08
CTBUH special multi-disciplinary annual edition of the John Wiley journal - "The Structural Design of Tall and Special Buildings"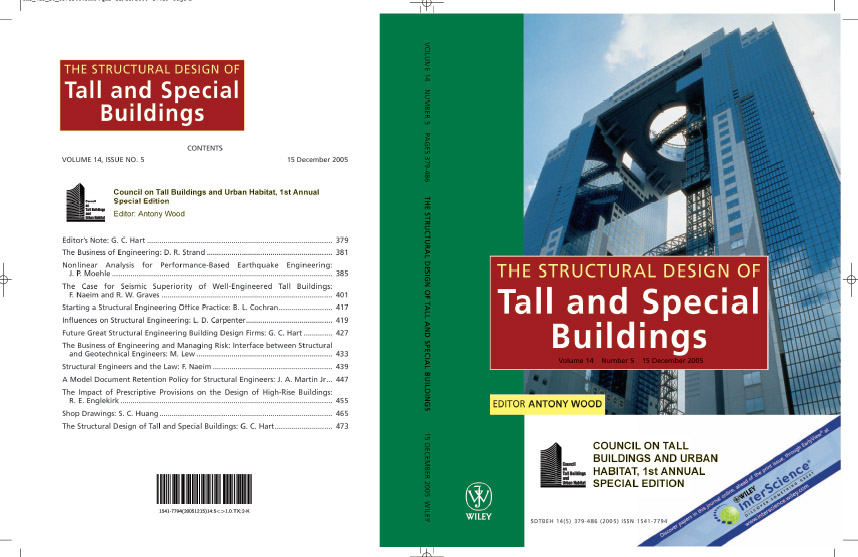 The 'call for papers' for this journal is ongoing. If you would like your paper to be considered on any multi-disciplinary theme within the field of tall buildings, please submit an abstract outlining the objectives, subject matter and conclusions of the paper (maximum 1 page) to CTBUH Executive Director, Antony Wood, at awood@ctbuh.org. Final papers should be in the region of 4000-6000 words in length, plus images. Detailed guidelines on the formatting of the paper - and previous issues of the Journal for reference - can be found here. This website also gives guidance on document format, use of images etc. The deadline for receipt of the completed paper is 30th June 2007. Abstracts / enquiries should thus be sent soon. All papers will be peer-reviewed by at least two external experts.
International Height Meeting (Chicago, May 24, 2007).
30 attendees from 8 countries (Australia, Belgium, Dubai, Qatar, Russia, South Korea, UK & USA) are now confirmed for this meeting to discuss and possibly redefine the criteria on which tall building height is measured, and the title of the 'world's tallest' determined. The meeting will be recorded with a video and full transcript posted on our website within a few weeks of the meeting. A summary of findings from the meeting will also be included in next month's CTBUH update. A new height committee will be formed out of selected attendees from the meeting, to rule on possible future contentious cases.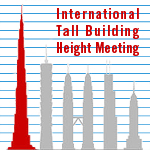 New Members - Donor Level

RISE International, Chicago, USA. RISE is an international program management, technical services and strategy consulting company whose mission is to provide exceptional capital improvement projects and major infrastructure programs.
http://www.risegroup.com

Rolf Jensen & Associates, Chicago, USA. With offices throughout the U.S., the team of fire protection engineering professionals at Rolf Jensen & Associates provides technical excellence and fast response to their clients world-wide.
http://rjagroup.com

Walter P Moore Engineers & Consultants, Atlanta, USA. Founded in 1931 as a one-person firm, Walter P Moore now has offices throughout the U.S., providing distinctive engineering solutions to meet the needs of their clients.
http://walterpmoore.com
New Members - Participant Level

GS Engineering & Construction, Seoul, Korea. Since its founding in 1969 GS Engineering & Construction has achieved a large growth in the fields of architecture, civil engineering, housing and development projects in Korea and abroad.
http://www.gsconst.co.kr
Membership Upgrades to Donor Level

BMT Fluid Mechanics Limited, Teddington, United Kingdom. Founded in the U.K. in 1985 and with regional offices in Hong Kong and Abu Dhabi, BMT is considered a leading independent specialist in the field of wind engineering and offshore marine consultancy.
http://www.bmtfm.com

Rosenwasser Grossman Consulting Engineers, New York, USA. Founded in 1954, Rosenwasser Grossman has produced outstanding designs in both reinforced concrete and structural steel and developed the first integrated Three-Dimensional Computer Program for a high-rise building design.
http://www.rosenwassergrossman.com
Marcus Evans / CTBUH Conference on "Tall Buildings" (Shanghai, July 9 & 10)
The race to build super tall buildings has reached epic proportions in Asia and the Middle East. In many cities around the world tall buildings are considered as the solution to high demand for center city office and residential space, as a tool for urban regeneration and as crucial landmarks to boost the brand identities of cities. This conference brings together global experts to discuss the issues affecting the planning, designing, marketing and managing of sustainable skylines and tall buildings. Don't miss this opportunity to meet the line up of key international speakers and to network with a very targeted group of delegates from around the world. For more info or to register go to here.
MEED Conference on "Efficient Design & Construction" (Dubai, June 26-27, 2007
This two-day conference, the first-ever of its kind for the region, includes world class experts talking about sustainable and green design for the Middle East. The CEO of MASDAR, Sultan al Jaber, will be giving a keynote address on Abu Dhabi Future Energy and will be introducing the world's first zero-carbon city which is being built in Abu Dhabi. Please visit here for more information.
6th Annual CTBUH Awards Dinner Chicago, 25 October 2007
Final reminder! Nominations for the 2007 Lynn S. Beedle Achievement Award, the Fazlur Rahman Khan Medal, the Best Tall Building Award, and the Best Sustainable Tall Building Award are due June 1st. All nominations should be sent to committee chair, Tim Johnson at tjohnson@nbbj.com. For a list of the past recipients and the award criteria, visit the Council's website.
Liberty Science Center Skyscraper Exhibit Set to Open

The Liberty Science Center in New Jersey is set to reopen on July 19th with its new exhibit, "Skyscraper! Achievement and Impact". Traveling through four main content areas, guests will discover many fascinating aspects of skyscraper design and engineering. Skyscraper World will offer an overview of skyscrapers and their importance to our lives, and will include detailed models of some of the world's most notable tall structures as well as live feeds from construction projects around the world. Designing & Engineering will allow guests to experiment with city planning, design their own skyscrapers, conduct wind tunnel tests on their designs, and see how water and air are transported to the top of a skyscraper. The Construction Site will offer the look and feel of being at a real construction site, allowing guests to operate a crane, test the properties of hydraulic systems and walk along an I-beam. The Building introduces guests to social and environmental characteristics of skyscrapers and provide a glimpse of designs of the future. For more information visit here.